Patient Testimonials – Page 2
What others say about chiropractic care can help you make the right health care choice. Review a selection of W Chiropractic patient testimonials below and please email me or contact the office if you have any questions. Be well, and never forget who you are, Dr. Mark Wilson
Click handwritten review images below to view full size.
---
Little or No Pain in My Shoulder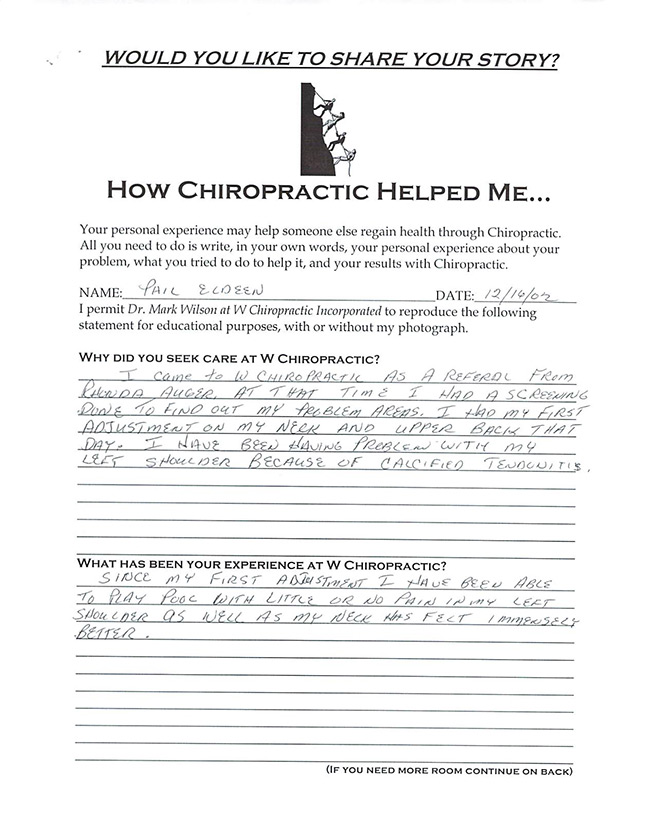 I came to W Chiropractic as a referral from A FRIEND. At that time, I had a screening done to find out my problem areas. I had my first adjustments on my neck and upper back that day. I have been having problems with my left shoulder because of calcific tendonitis. Since my first adjustment, I have been able to play pool with little or no pain in my left shoulder. Not only that but my neck has felt immensely better. - Phil E.
---
Almost Free of Migraines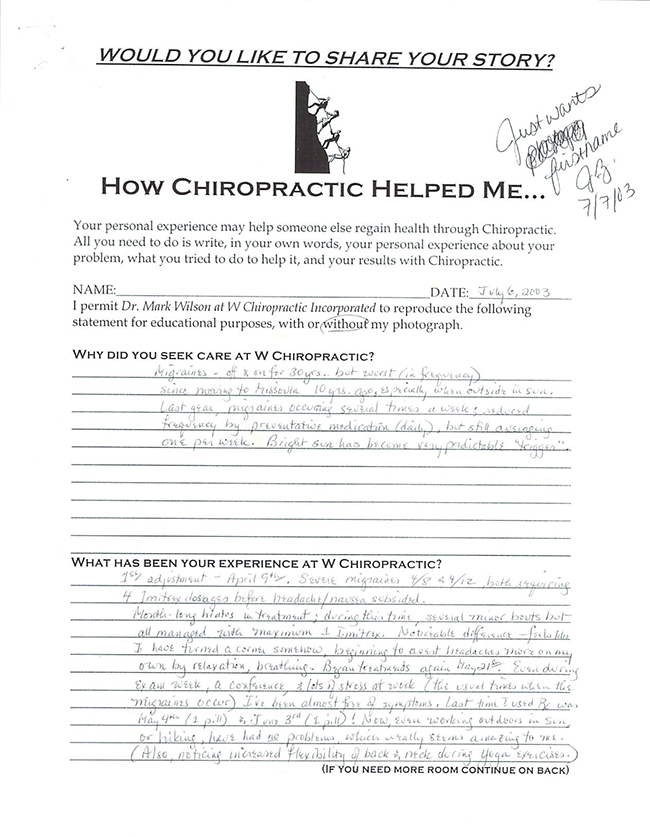 I looked for care at W Chiropractic because of migraines. I had them on and off for 30 years, but worse (in frequency) since moving to Missoula 10 years ago. I especially experienced them when I was outside in the sun. Last year, the migraines were occurring several times a week; reduced in frequency by preventative medications taken daily, but still averaging one per week. Bright sunlight has become a very predictable trigger for my migraines. My first adjustment was held on April 9th, 2003. I experienced severe migraines on April 8th and 12th, both requiring 4 Imitrex doses before subsiding. I had a month-long hiatus in treatment; during this time, several minor bouts occurred but all managed with a maximum of 1 Imitrex. Read More…
I have noticed a difference since the first adjustment and feel I have turned a corner somehow; beginning to avert headaches more on my own with relaxation and breathing. I began chiropractic treatments again on May 21st. Even during exam week, a conference, and lots of stress at work (the usual times when the migraines occur) I've been almost free of symptoms. The last time I used a prescription was May 4th, 1 pill and June 3rd (1 pill!) Now, even working outdoors in the sun, or hiking, I have had no problems! This is really so amazing to me. I have also noticed increased flexibility in my back and neck during yoga exercises. - Lynn
---
Dr. Mark is a Godsend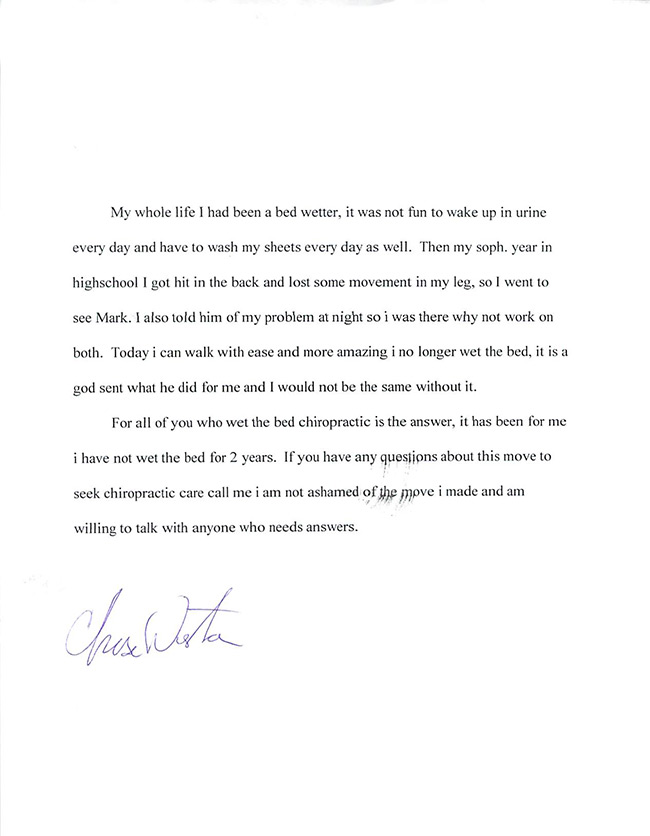 My whole life I had been a bedwetter. It was not fun to wake up in urine every day and have to wash my sheets every day as well. Then, my sophomore year in High School I was hit in the back and lost some movement in my leg, so I went to see Dr. Mark. I also told of my problem at night so, while I was there, why not work on both problems? Today, I can walk with ease and more amazingly, I no longer wet the bed. It is a Godsend, what he did for me and I would not be the same without it. For all of you who wet the bed, chiropractic care is the answer. It has been for me, I have not wet the bed for 2 years. If you have any questions about this move to seek chiropractic care, call me, I'm not ashamed of the move I made and am willing to talk with anyone who needs answers. - Chase W.
---
Headache-Free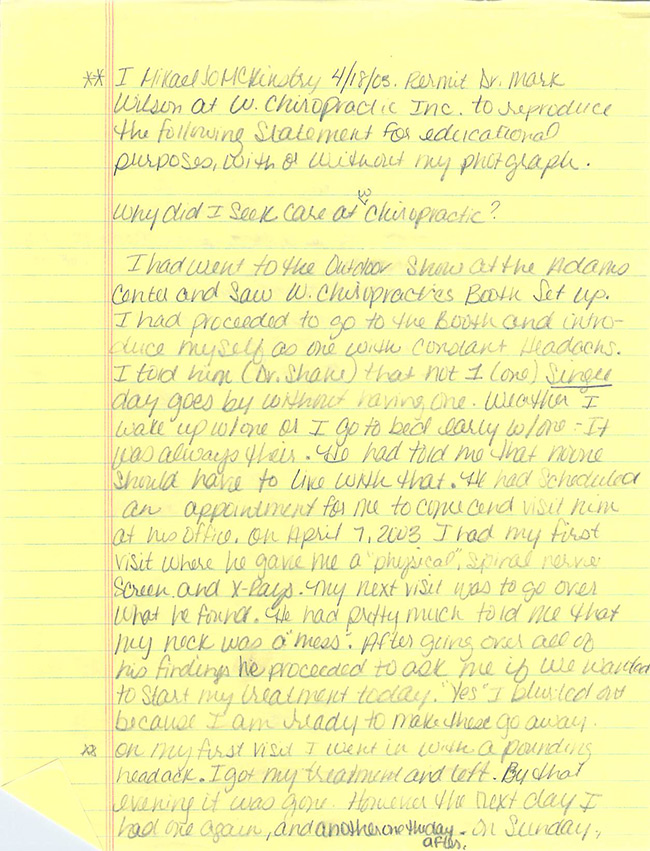 I had gone to the Big Sky Sports & Outdoor Show at the Adams Center and saw a W Chiropractic booth set up. I proceeded to the booth and introduced myself as one with constant headaches. I told him that not one single day goes by without having one. Whether I woke up with one or I went to bed early with one, it was always there. Dr. Shane told me that no one should have to live with that. He scheduled an appointment for me to go and visit him at his office. I had my first visit where he gave me a physical, spinal nerve screen and X-rays. My next visit was to go over what he found. He had pretty much told me that my neck was a mess. After going over all of his findings, he proceeded to ask me if we wanted to start treatment today. Read More…
I blurted out "YES!" because I was ready to make these go away. On my first visit, I went in with a pounding headache. I got my treatment and left. By that evening, it was gone. However, the next day I had another one again, and another one the day after. On Sunday I spent the day in bed with a headache so bad that it made me sick to stand up. Monday I woke up without a headache and went to get another treatment. That night I went to bed without a headache. I am proud to say that because of Dr. Shanes's treatment, I have been headache-free for 5 days now. That is such an improvement in my life. I will continue to get treatment. - Mikael M.
---
Feeling Better and Increasingly Enthusiastic
I have aching pain throughout my body, which has prevented me from being as active as I would like and also prevents me from sleeping through an entire night. Furthermore, I am looking for better overall health. The ambience is so welcoming and wonderful. I look forward to every visiT. I am sleeping through the night every night, generally feeling better and becoming increasingly enthusiastic about making a long-term commitment to chiropractic. Dr. Mark helps to make my day more beautiful. - Leslie V.
---
Thank You!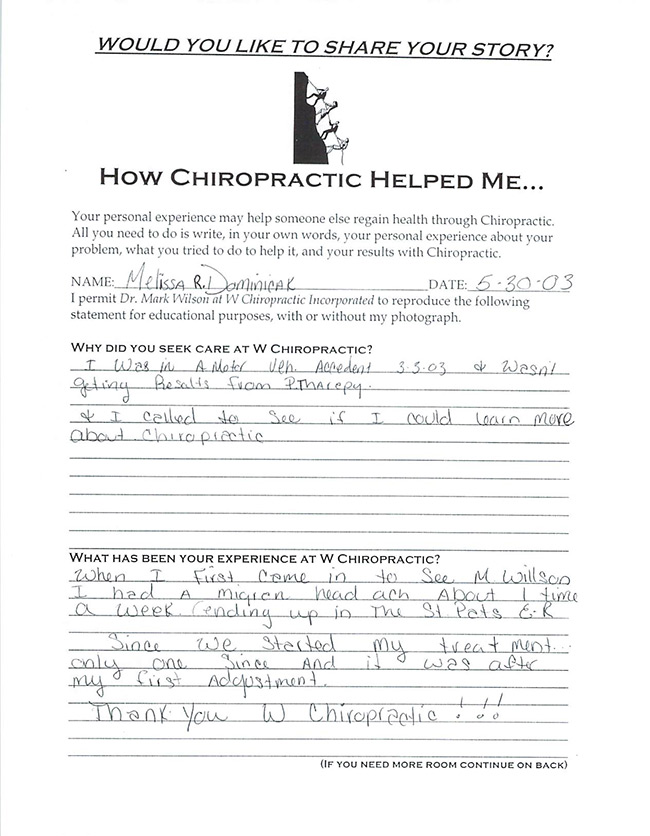 I was in a motor vehicle accident and wasn't getting results from physical therapy. I decided to call and see if I could learn more about chiropractic. When I first came in to see Mark Wilson I had a migraine headache about 1 time per week. (Ending up in the St. Patricks Hospital Emergency room.) Since we started my treatment, I've had only one since and it was after my first adjustment. Thank you! - Melissa D.
---
My Pain, Discomfort, and Weakness Are Gone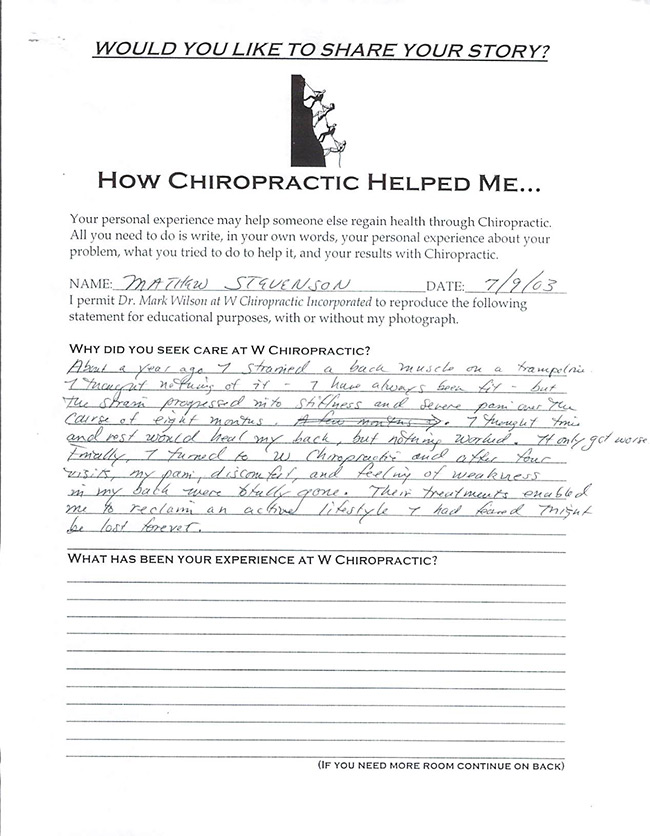 About a year ago, I strained a back muscle on a trampoline. I thought nothing of it. I have always been fit, but the strain progressed into stiffness and severe pain over the course of eight months. I thought time and rest would heal my back, but nothing worked. It only got worse. Finally, I tried W Chiropractic and after four visits, my pain, discomfort and feeling of weakness in my back were totally gone. Their treatments enabled me to reclaim an active lifestyle I had fear might be lost forever. - Mathew S.
---
My Experience Has Been So Wonderful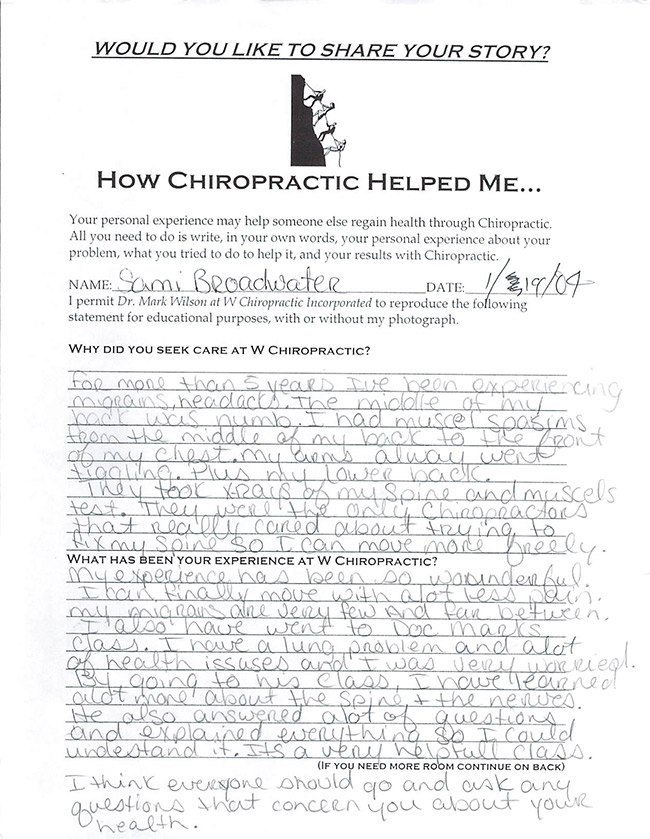 For more than 5 years I've been experiencing migraines and headaches. The middle of my back was numb and I had back spasms from the middle of my back to the front of my chest. My arms and lower back were always tingling. W Chiropractic took X-rays of my spine and did muscle tests. They were the only chiropractors that cared about trying to fix my spine so I can move freely. My experience at W Chiropractic has been so wonderful. I can finally move with a lot less pain. My migraines are very few and far between. I also have attended Dr. Mark's W.O.W. health class. I was having several other health issues and was very worried. By going to his health class, I have learned a lot more about the spine and nerves. He also answered a lot of questions and explained everything so I could understand it. I would encourage anyone with questions about their health to attend his health class. - Sami B.
---
I'm Glad I Invested Time and Money
Since I was in my late 20's, I have had increasingly painful episodes with my lower back. Each year it got worse, especially in the spring when my work became more stressful. I spent more time sitting at a desk and computer. Then at home, I started gardening or landscaping. I went to a chiropractor and found out that I have osteoarthritis. I worked with the chiropractor to reduce the pain and learned some lower-back-specific exercises. I found I improved a lot with increased exercise and activity. I started working less and found it much less painful, so I stopped seeing the chiropractor. Again, when work got more stressful, I sat more and exercised less, the pain got worse. When I met Dr. Mark, he answered some questions, gave me some hope, and I signed up for a consultation and the 60 visit plan. Read More…
I changed my work schedule and committed to more exercise and regular visits. After a few weeks, I began noticing quite a few changes. I had a much better range of motion; I could turn my head to check behind me while driving, lean forward and back with greater confidence, I can lie on my stomach and back for longer periods of time (while sleeping or receiving a massage). I can get in and out of cars better, before I felt like an 80-year-old woman sometimes getting out of the car after driving for a long time. I found over time, I could do yoga poses I hadn't been able to do for a long time because of pain and stiffness, and I also felt increased energy and a more positive attitude, which in turn motivated me to exercise more. I have had ups and downs with flexibility, and the pain periodically flares up when I sit for long periods of time or I overdo certain motions like raking or heavy lifting. But, overall I am stronger and can generally manage the pain with frequent stretching and lots of walking without taking any pain medication or anti-inflammation pills. I'm glad I invested the time and money; I'm much happier! - Wendy S.
---
No Recurring Neck and Shoulder Pain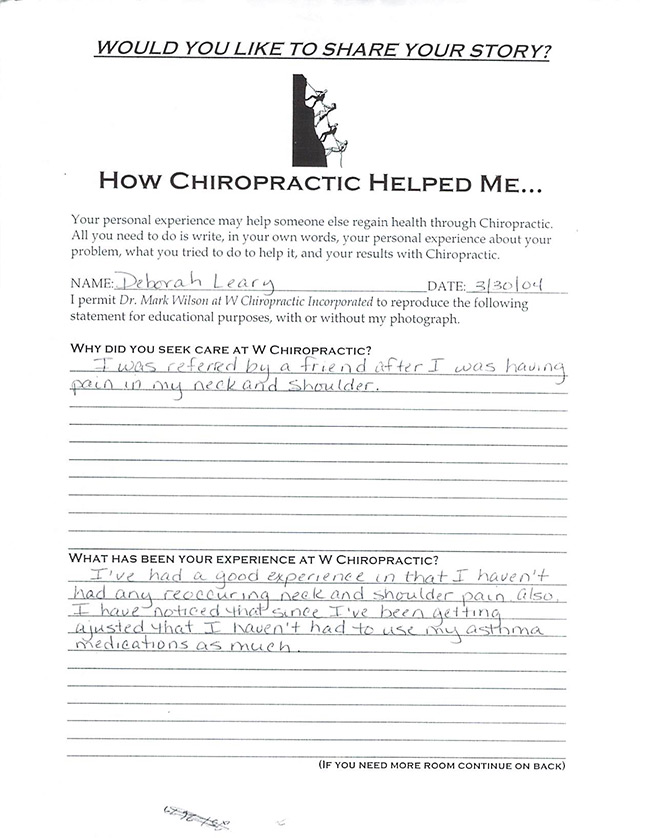 I sought care at W Chiropractic because I was referred by a friend after I was having pain in my neck and shoulder. I've had a good experience in that I haven't had any recurring neck and shoulder pain. Also, I have noticed that since I've been getting adjusted, I haven't had to use my asthma medications as much. - Deborah L.
---
Dr. Mark is Actually Treating the Problem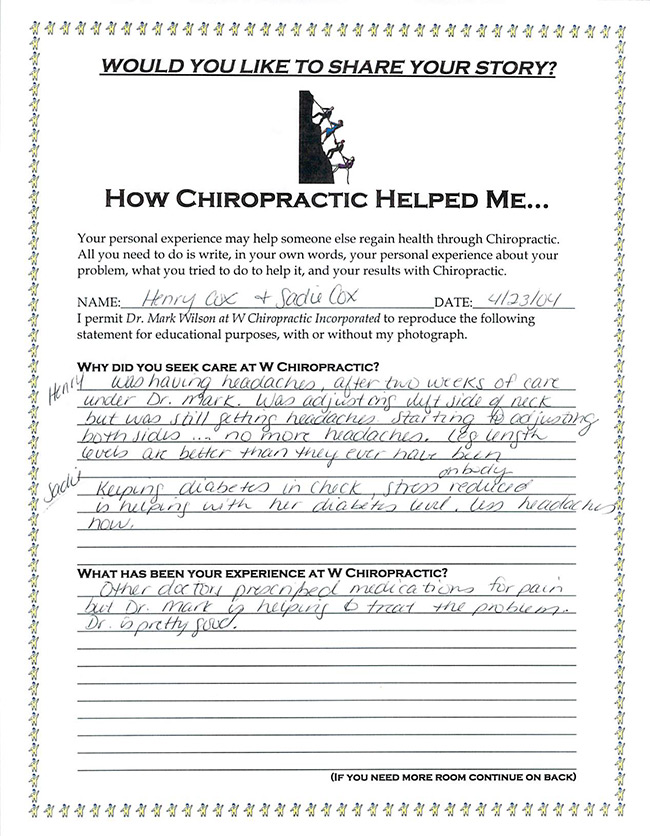 I met Dr. Mark at the Home & Garden Show with my husband. I have suffered from diabetes, stress and headaches. Since starting chiropractic, my diabetes has been kept in check, the stress on my body has reduced and I am experiencing fewer headaches. Other doctors have prescribed medications for both, but Dr. Mark is helping to actually treat the problem. Dr. Mark is pretty good.
Read More…
I was experiencing headaches when I met Dr. Mark at the Home & Garden Show. After two weeks of care, he was adjusting the left side of my neck and I was still getting headaches. He started adjusting both sides and no more headaches! My leg length levels are better than they have ever been. Dr. Mark is helping to treat my problem, not just prescribe medications for pain like other doctors. Thanks W Chiropractic! - Henry & Sadie C.
---