What Our Patients Say
What others say about chiropractic care can help you make the right health care choice. Review a selection of W Chiropractic patient testimonials below and please email me or contact the office if you have any questions. Be well, and never forget who you are, Dr. Mark Wilson
Click handwritten review images below to view full size.
---
I'm A Believer in Chiropractic Care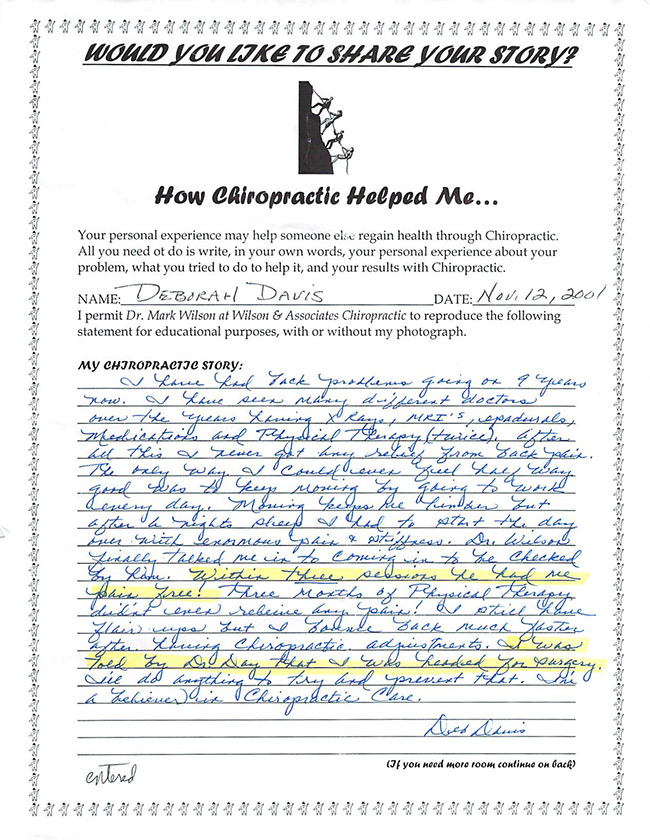 I have had back problems going on 9 years now. I have seen many different doctors over the years having x rays, MRIs, epidurals, medications and physical therapy (twice)! After all this, I never got any relief from back pain. The only way I could ever feel good was to keep moving by going to work every day. Moving keeps me limber but after a night's sleep, I had to start the day over with enormous pain and stiffness. Dr. Wilson finally talked me into coming in to be checked by him. Within three sessions he had me pain-free! Three months of PT didn't even relieve any pain! I still have flare-ups but I bounce back much faster after having chiropractic adjustments. I was told by Dr. Day that I was headed for surgery. I'd do anything to try and prevent that. I'm a believer in chiropractic care. - Deborah D.
---
Thank You For All You've Done For Me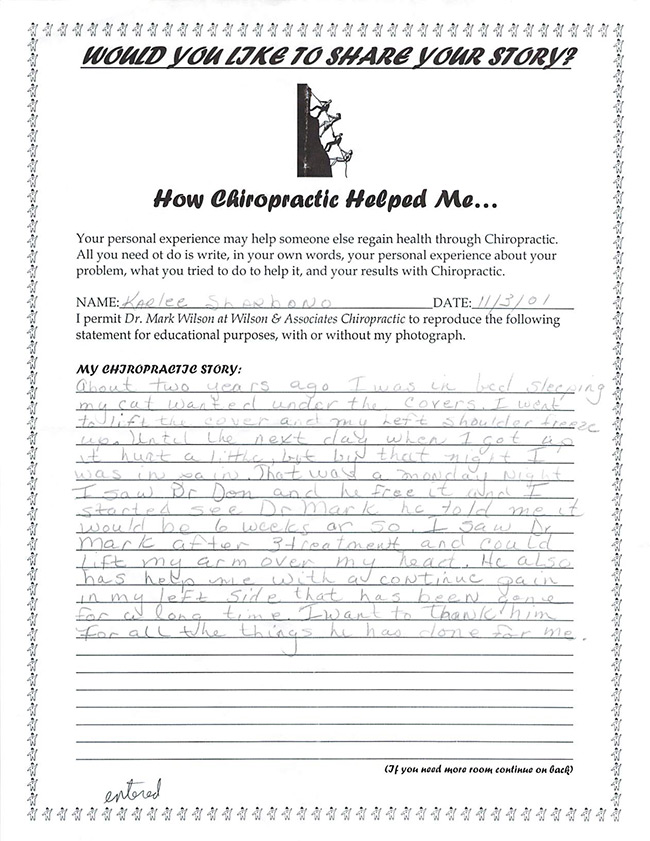 About two years ago, I was in bed sleeping. My cat wanted under the covers. I went to lift the cover and my left shoulder froze up until the next day. When I got up, it hurt a little, but by that night, I was in pain. That was a Monday night. I saw Dr. Don and he freed it and I started to see Dr. Mark. He told me it would be 6 weeks or so. I saw Dr. Mark and after 3 treatments, I could lift my arm over my head. He also has helped me with a continued pain in my left side that has been gone a long time now. I want to thank him for all the things he has done for me. - Karlee S.
---
I Feel A Lot Better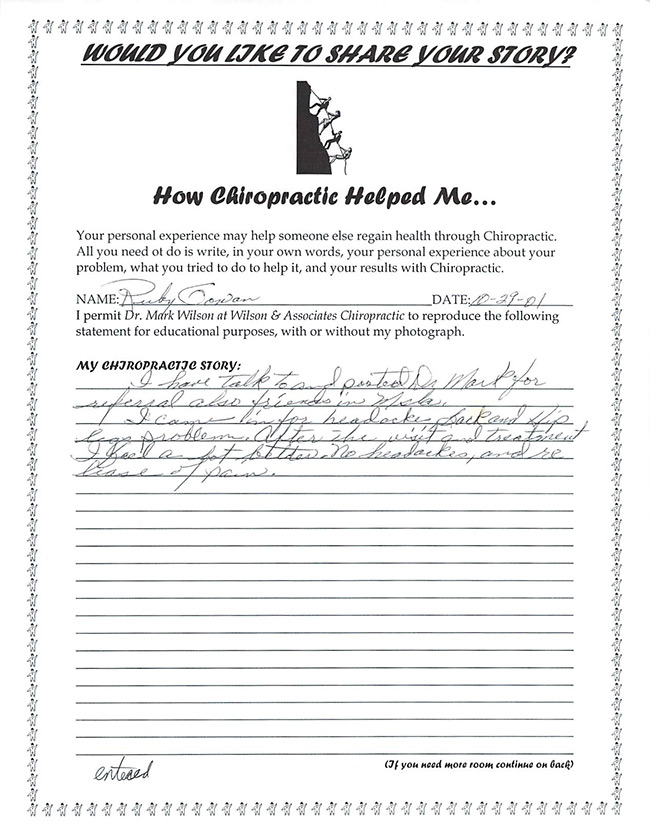 "I have talked to and posted Dr. Mark for referral to my friends in Missoula. I came in for headaches, back, hip and leg problems. After the visits and treatments, I feel a lot better. No headaches and release of other pains. - Ruby G.
---
Thank you Dr. Mark!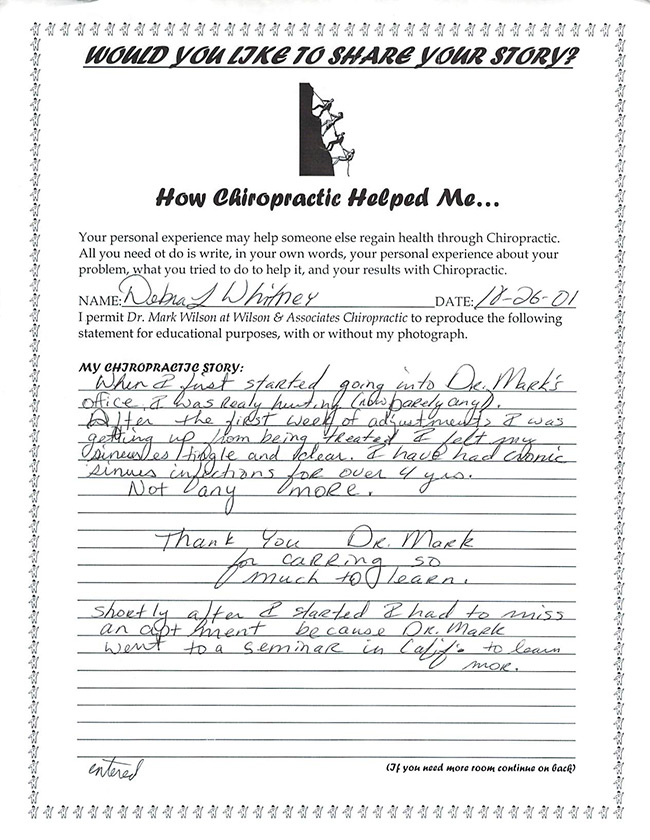 "When I first started going into Dr. Mark's office, I was really hurting (now, barely any pain). After the first week of adjustments, I was getting up from being treated and felt my sinuses tingle and clear. I have had chronic sinus infections for over four years. Not any more! Thank you Dr. Mark for caring so much! Shortly after I started, I had to miss an appointment because Dr. Mark went to a seminar in California to learn more. - Debra W.
---
My Headaches are Completely Gone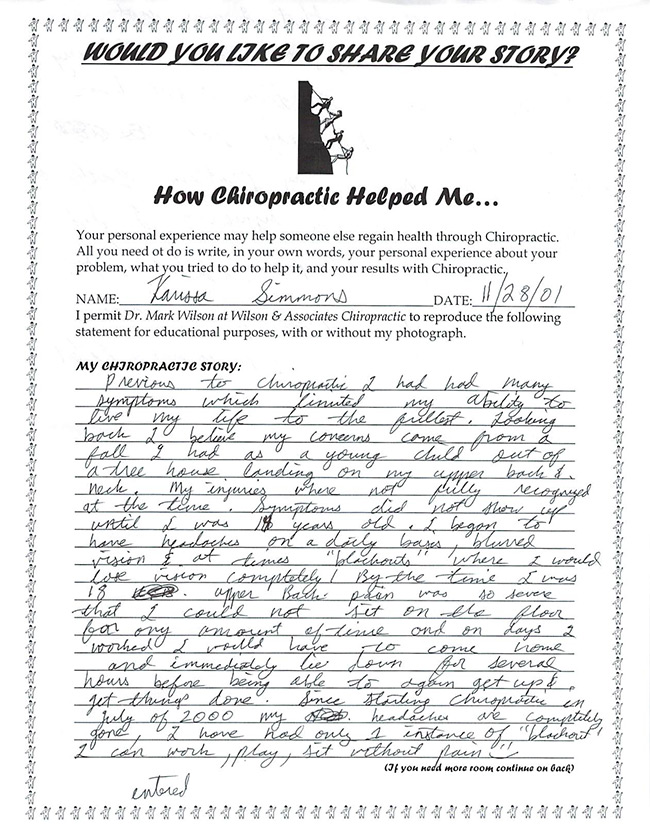 Previous to chiropractic, I had had many symptoms which limited my ability to live my life to the fullest. Looking back, I believe my concerns came from a fall I had as a young child; out of a treehouse landing on my upper back and neck. My injuries were not fully recognized at the time. Symptoms did not show up until I was years older. I began to have headaches on a daily basis, blurred vision, and at times blackouts where I would lose vision completely. By the time I was 18, my upper back was so severe that I could not sit on the floor for any amount of time and on days I worked, I would have to come home and immediately lie down for several hours before being able to get up and get things done. Since starting chiropractic in July of 2000, my headaches are completely gone! I have had only 1 instance of blackout, I can work, play, sit without pain! - Karissa S.
---
My Knee is 100% Better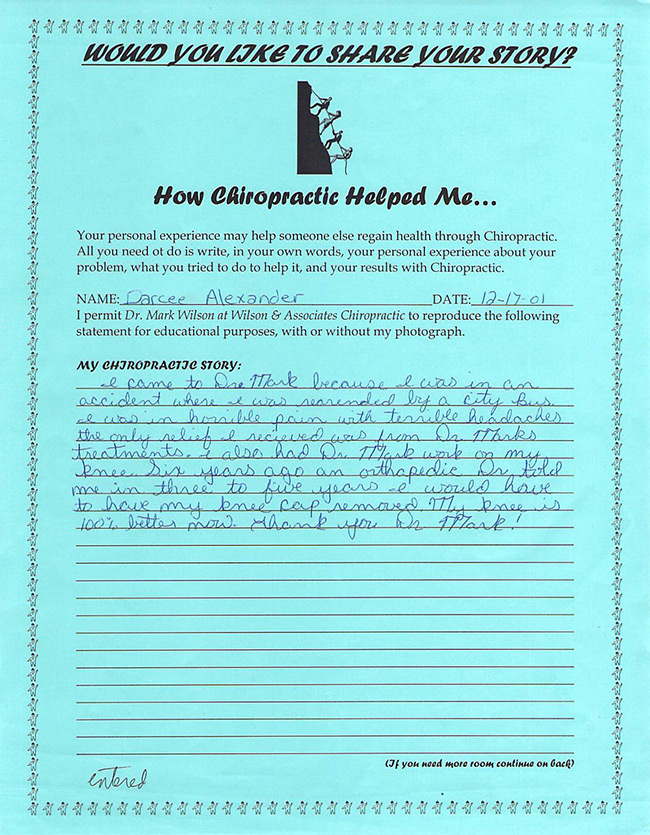 I came to Dr. Mark because I was in a car accident where I was rear-ended by a city bus. I was in horrible pain with terrible headaches. The only relief I received was from Dr. Marks' treatments. I also had Dr. Mark work on my knee. Six years ago, an orthopedic doctor told me in three to five years I would have to have my kneecap removed. My knee is 100% better now. Thank you Dr. Mark! - Darcee A.
---
I Actually Enjoyed My Pregnancy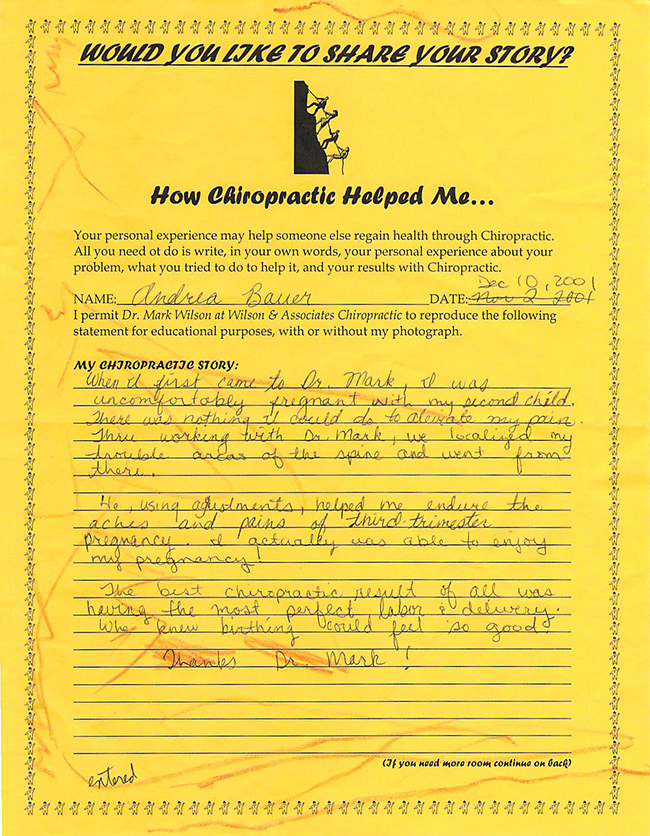 When I first came to Dr. Mark, I was uncomfortably pregnant with my second child. There was nothing I could do to alleviate my pain. Through working with Dr. Mark, we localized my trouble areas of the spine and went from there. He, using adjustments, helped me endure the aches and pains of third-trimester pregnancy. I actually was able to enjoy my pregnancy. The best chiropractic result of all was having the most perfect labor and delivery. Who knew birthing could feel so good! - Andree B.
---
I Have Little or No Earaches at All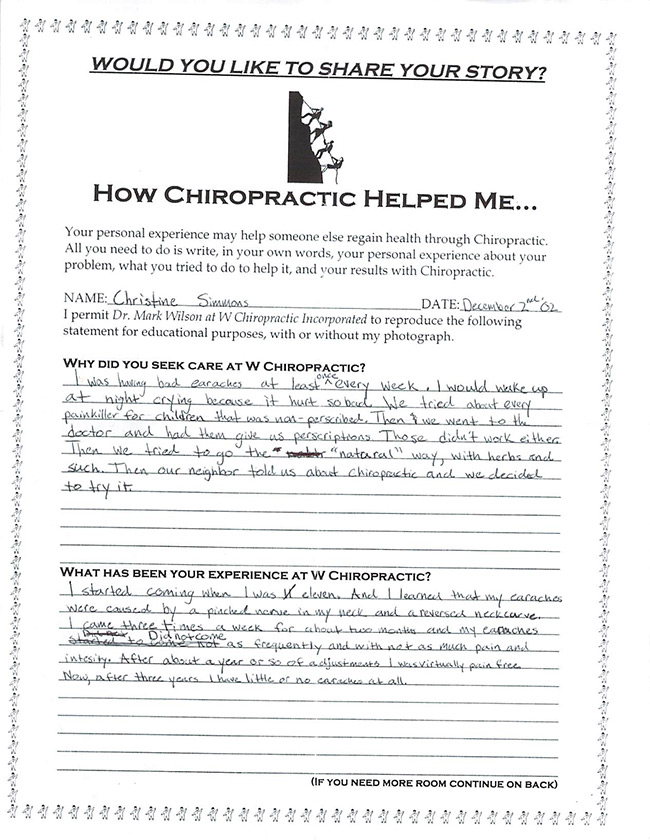 I was having bad earaches at least once every week. I would wake up at night, crying because it would hurt so much. We tried about every pain killer for children that was non-prescribed. Then we went to the doctor and had them give us prescriptions. Those didn't work either. Then we tried to go the "natural" way, with herbs and remedies. Then our neighbor told us about chiropractic and we decided to try it. I started seeing Dr. Mark when I was eleven. I learned that my ear aches were caused by a pinched nerve in my neck and a reversed neck curve. I came three times a week for about two months and my ear aches decreased in frequency, pain and intensity. After about a year or so of adjustments, I was virtually pain-free. Now, after three years, I have little or no earaches at all! - Christine S.
---
A Very Positive Experience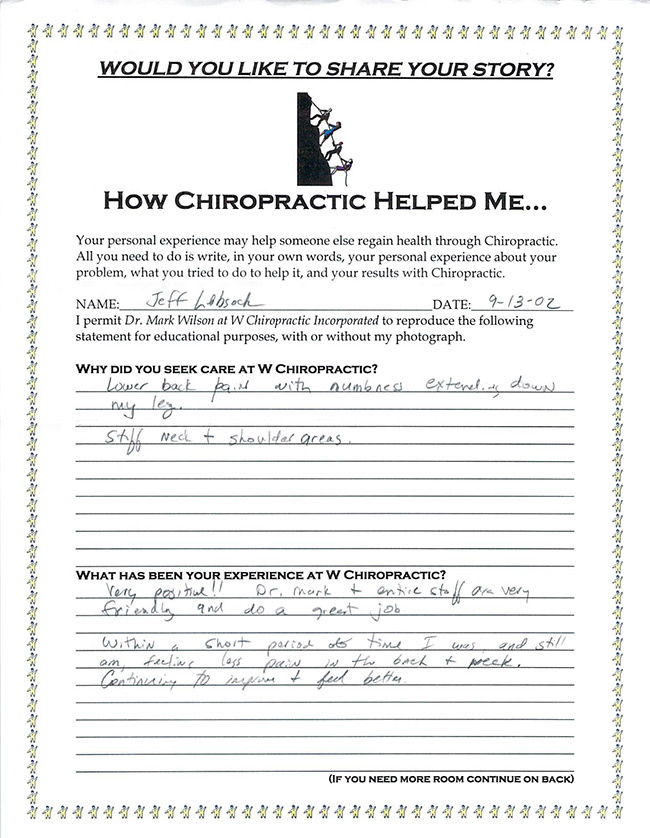 I was experiencing lower back pain with numbness, extending down my leg. I also suffered from a stiff neck and shoulder area. I've had a very positive experience with W Chiropractic! Dr. Mark and the entire staff are very friendly and do a great job. Within a short period of time I was, and still am, feeling less pain in the back and neck. At this time, I am continuing to improve and I feel much better! - Jeff L.
---
I Have Seen Vast Improvements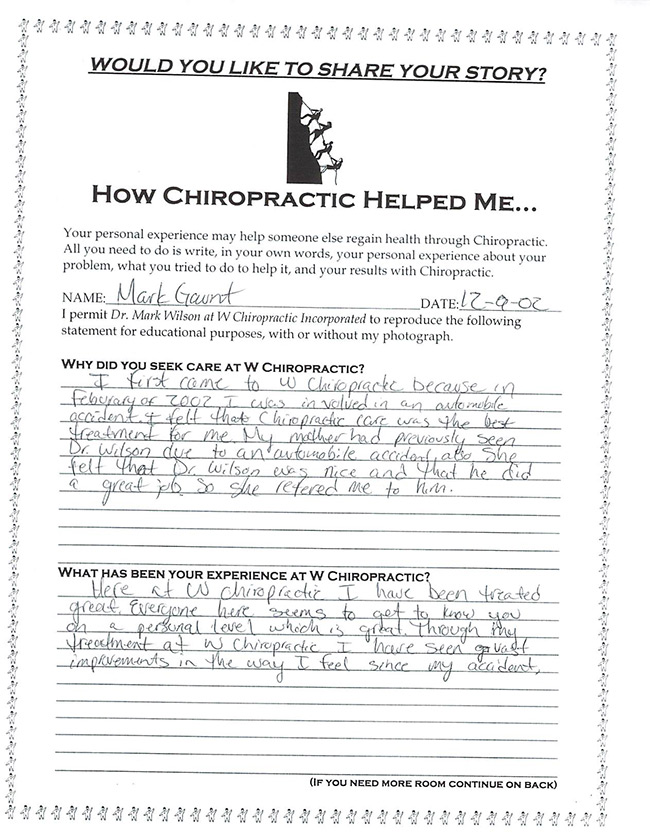 I first came to W Chiropractic because I was involved in an automobile accident in February of 2002. I felt that chiropractic care was the best treatment for me. My mother had previously seen Dr. Wilson due to an automobile accident as well. She felt that Dr. Wilson was nice and that he did a great job, so she referred me to him. Here at W Chiropractic, I have been treated great. Everyone here seems to get to know you on a personal level, which is great. Through my treatment at W Chiropractic I have seen vast improvements in the way I feel since my accident. - Mark G.
---
My Headaches are down 87%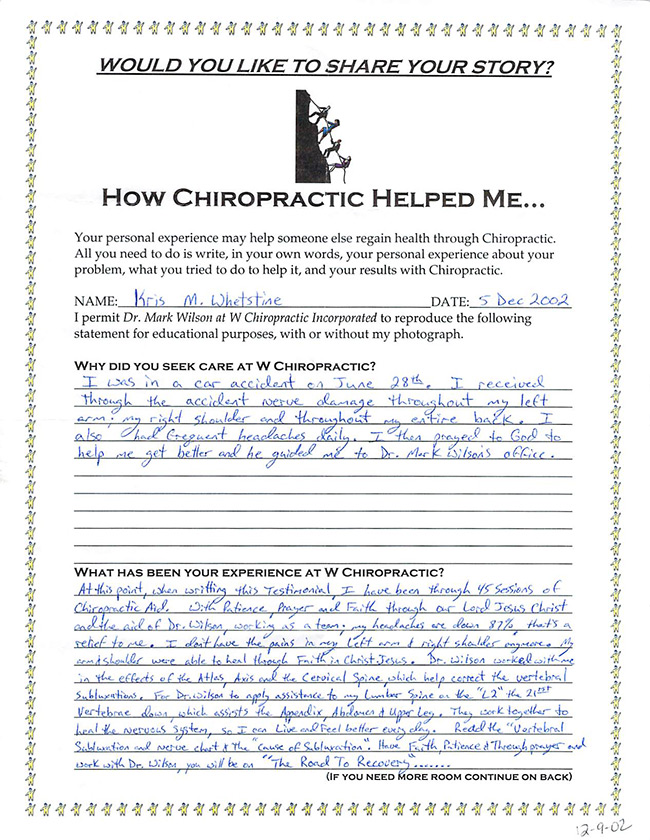 I was in a car accident on June 28th, where I received nerve damage throughout my left arm, my right shoulder and through my entire back. I also had frequent headaches daily. I prayed to God to help me get better and he guided me to Dr. Mark Wilson's office. At this point, when writing this testimonial, I have been through 45 sessions of chiropractic aid. With patience, prayer and faith through our Lord Jesus Christ, and the aid of Dr. Wilson, working as a team; my headaches are down 87%. That is a relief to me! I don't have the pains in my left arm and right shoulder any more. Read More…
My arm and shoulder were able to heal through faith in Jesus Christ. Dr. Wilson worked with me in the effects of the atlas, axis, and cervical spine, which helped correct the vertebral subluxations. For Dr. Wilson to apply assistance to my lumbar spine on the L2, the 21st vertebrae down, which assists the appendix, abdomen, and upper leg, it has helped. These parts all work together to heal the nervous system, so I can live and feel better every day. It's beneficial to read the "Vertebral Subluxation and Nerve Chart and the Cause of Subluxation." Have faith, patience and through prayer and working with Dr. Wilson, you will be on the road to recovery. - Kris W.
---
Gaining Spinal Health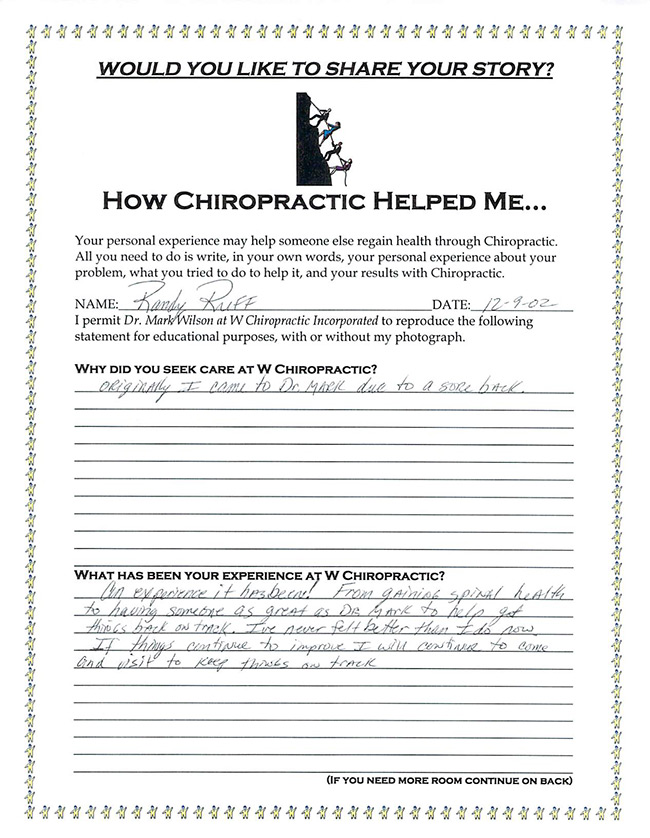 "Originally I came to Dr. Mark due to a sore back. An experience it has been! From gaining spinal health to having someone as great as Dr. Mark to help get things back on track, it sure has been great. I've never felt better than I do now. If things continue to improve, I will continue to come and visit to keep things on track. - Randy R.
---
I Sleep and Function Better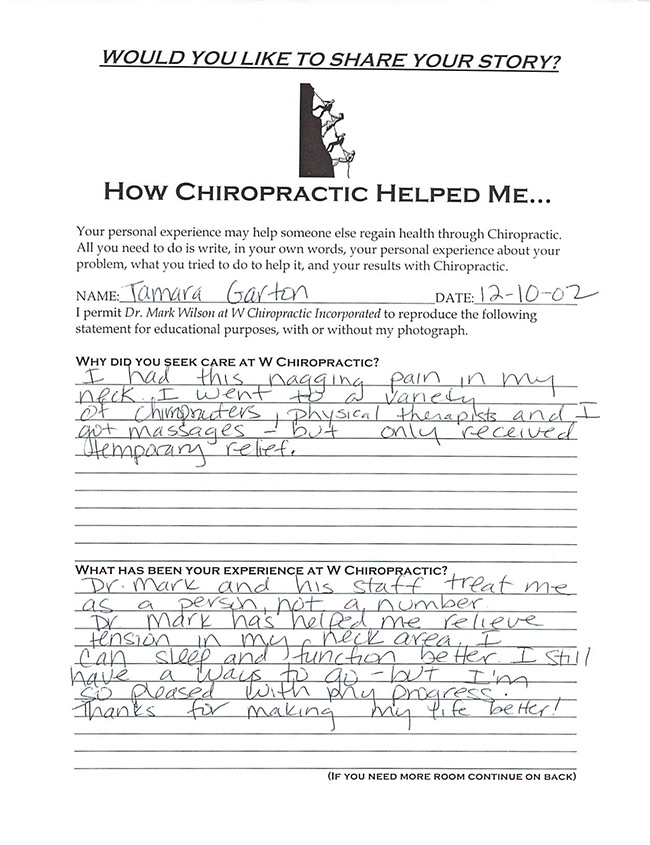 "I had this nagging pain in my neck. I went to a variety of chiropractors, physical therapists, and I got massages. But I really only received temporary relief. Dr. Mark and his staff treated me as a person, not a number. Dr. Mark has helped me relieve tension in my neck area. I can sleep and function better. I still have a ways to go, but I'm so pleased with my progress. Thanks for making my life better! - Tamara G.
---
Living a More Satisfying Life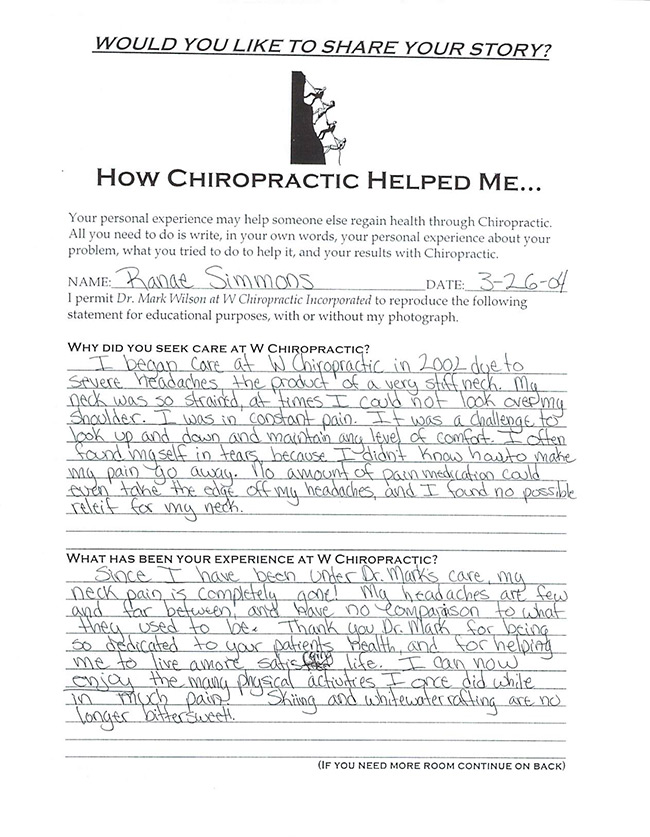 "I began care at W Chiropractic in 2002 due to severe headaches; the product of a very stiff neck. My neck was so strained, at times I could not look over my shoulder. I was in constant pain. It was a challenge to look up and down and maintain any level of comfort. I often found myself in tears, because I didn't know how to make my pain go away. No amount of pain medication could even take the edge off my headaches, and I found no possible relief for my neck. Since I have been under Dr. Mark's care, my neck pain is completely gone! My headaches are few and far between and have no comparison of what they used to be. Thank you Dr. Mark for being so dedicated to your patient's health and for helping me to live a more satisfying life. I can now enjoy the many physical activities I once did while in much pain. Skiing and whitewater rafting are no longer bittersweet! - Ranae S.
---
I Feel Great!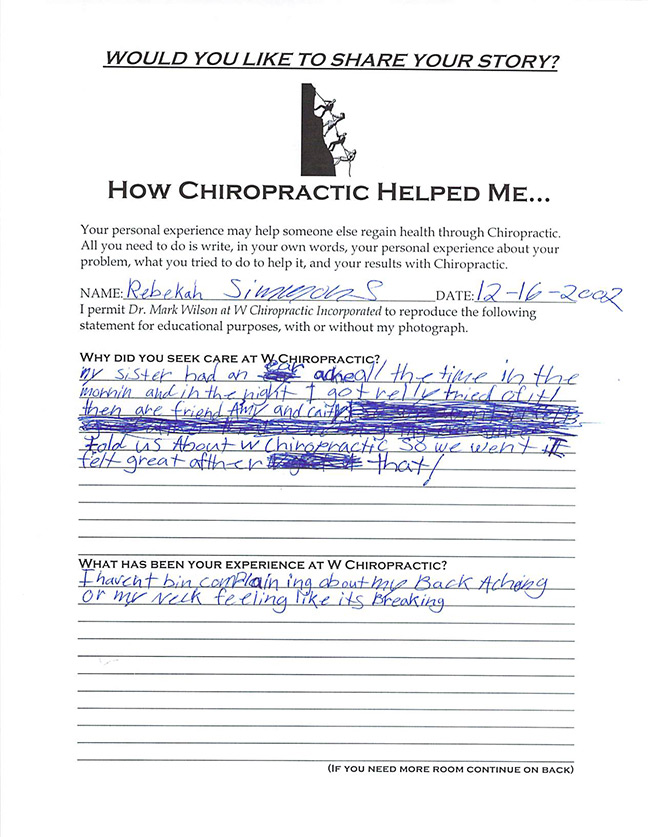 "My sister had an earache all the time in the morning and night, and I got really tired of it. Then, my friends, Amy and Katy told us about W Chiropractic. So we went. Other than that, I felt great. Since then, my experience at W Chiropractic has been good. I haven't been complaining about my back aching or my neck feeling like it's breaking. I feel great! - Becky S.
---