Patient Testimonials – Page 3
What others say about chiropractic care can help you make the right health care choice. Review a selection of W Chiropractic patient testimonials below and please email me or contact the office if you have any questions. Be well, and never forget who you are, Dr. Mark Wilson
Click handwritten review images below to view full size.
---
Almost Immediate Improvement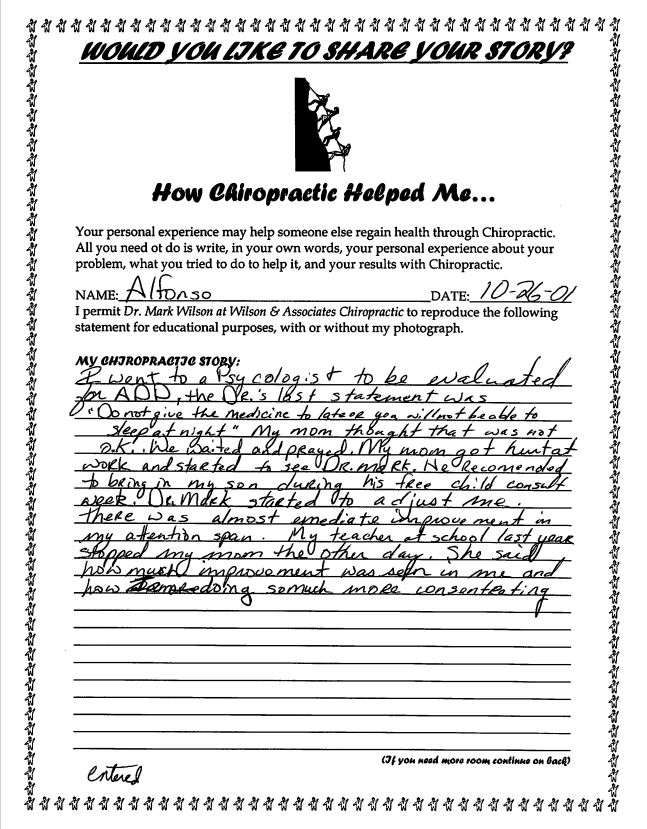 I went to a psychologist to be evaluated for ADD. The doctors last statement was, "do not give the medicine too late, or you will not be able to sleep at night." My mom thought that was not ok. We waited and prayed. My mom got hurt at work and started to see Dr. Mark. He recommended my mom bring me in during his free child consult event. Dr. Mark started to adjust me. There was an almost immediate improvement in my attention span. My teacher at school last year stopped my mom the other day. She said how much improvement was seen in me and how I'm doing so much more concentrating. - Alfonso W., Age 7
---
A Natural Way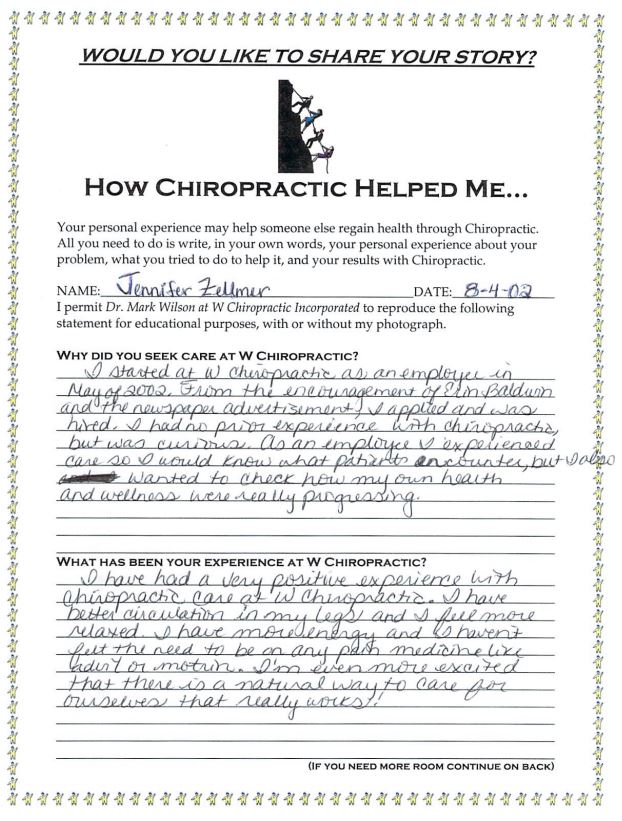 I started at W Chiropractic as an employee in May 2002. From the encouragement of Erin B. and a newspaper advertisement, I applied and was hired. I had no prior experience with chiropractic, but was curious. As an employee I experienced care so I would know what patients encounter, but I also wanted to check my own health and wellness were really progressing. Since then, I have had a very positive experience with chiropractic care at W Chiropractic. I have better circulation in my legs and I feel more relaxed. I have more energy and I haven't felt the need to be on any pain medicine like Advil or Motrin. I'm even more excited that there is a natural way to care for ourselves that really works! - Jennifer Z.
---
My Life has Changed
I first became educated about the power of chiropractic when I began working for a chiropractor in 1997. Up to that point, I thought they were just for people like my dad who worked construction and had multiple "back" problems. To my great surprise and deep curiosity, I found that such symptoms were only a small portion of the health concerns chiropractic could solve. I was a sickly child growing up and finally in high school doctors were able to find some of the root of my problems. Because of my low immune system, I was easily infected with different variations of the strep virus, and from the ages of 14-23 I fought strep throat 2-3 times per year for longer and longer durations. Always being medicated and soon my body got used to the drugs and I would need more and more. Upon mentioning this to my chiropractor, he immediately began adjusting the spinal area relating to the immune system. Since becoming dedicated to chiropractic and better nutrition, I have been the healthiest ever!! My life has changed. I do not get sick and have never had chronic strep problems since! - Lisa S.
---
I Feel a Lot Better Now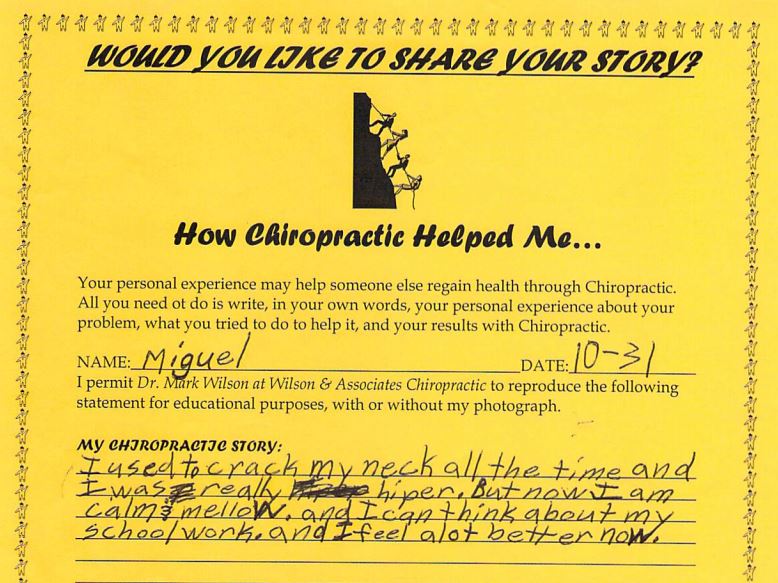 I used to crack my neck all the time and I was really hyper. But now I am calm and mellow. And I can think about my schoolwork. And I feel a lot better now! - Miguel R., Age 9
---
The Chiropractic Care Paid Off
I was looking for relief from lower back pain while I was pregnant. I started going to W Chiropractic 3 times a week with my 8th child. Previous to this, I had never had chiropractic care. I believe that it helped throughout my pregnancy. When it came time to have the baby, my body was ready and the chiropractic care paid off. My labor and delivery went very quickly. My earlier labors and deliveries were long and drawn out. I attribute my quick labor and delivery to the chiropractic care that I received. - Nancy S.
---
The Quality of my Life is 100% Better
I sought care at W Chiropractic because I have had past injuries that were taking a bit of a swing out of my step. I had some pain, which was definitely wearing my energy level down. Little did I know, with chiropractic help, how soon I'd be feeling better. I'd really like to thank Dr. Mark Wilson and his crew. Thanks to them, I feel better than I've felt in at least five years. Feeling better has increased my energy level through the roof. I sleep better, have an appetite and just feel the quality of my life is 100% better. Just find a more positive business in town, I doubt you will be able to, because at W Chiropractic you are going into such a happy place. You leave with an ear-to-ear smile. - Nathan T.
---
Don't Have Pain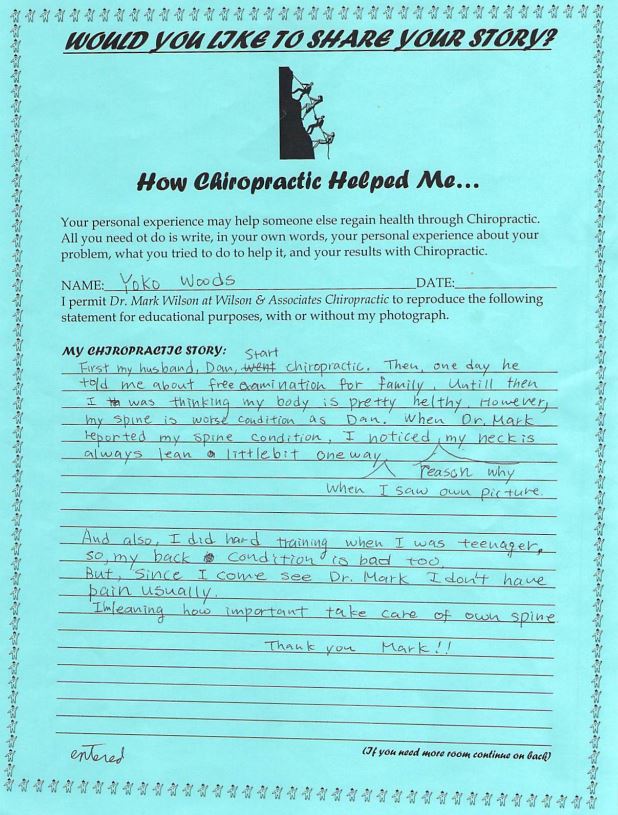 First my husband, Dan, started chiropractic. Then, one day he told me about the free examination for family. Until then I was thinking my body was pretty healthy. However, my spine was in worse condition than Dan! When Dr. Mark reported my spine condition, I noticed the reason why my neck always leans a little bit one way when I saw own picture. And also, I did hard training when I was a teenager. But, since I came to see Dr. Mark, I usually don't have pain. I am learning how important it is to take care of my own spine. Thank you Dr. Mark! - Yoko W.
---
I Feel Great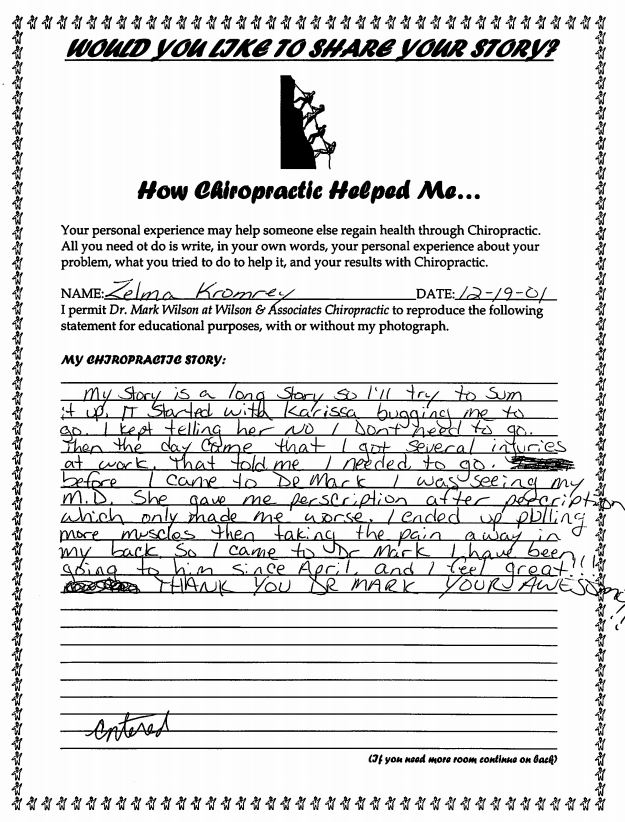 My story is a long story so I'll try to sum it up. It started with Karissa bugging me to go. I kept telling her no, I don't need to go. Then the day came that I got several injuries at work. That told me I needed to go. Before I came to see Dr. Mark, I was seeing my M.D. She gave me a prescription which only made me feel worse. I ended up pulling more muscles rather than taking the pain away. So, I came to Dr. Mark. I have been going to him since April and I feel great!! Thank you Dr. Mark…You are awesome! - Zelma K.
---
Strep Throat
From the age of 14 – 23 I fought strep throat 2 – 3 times each year. Since becoming dedicated to chiropractic and better nutrition, I have been the healthiest ever! My life has changed. I do not get sick and have never had chronic Strep problems since. - Lisa S., Age 31
---
I Have A Lot More Energy
I had constant upper and lower back pain. I was overweight and had very little energy! I didn't want to go to a medical doctor and be given pain pills to cover up the problem. My brother and his wife invited me to an Open House at W Chiropractic. I started the program with Dr. Wilson. I found as my back pain improved, I could focus more on taking care of myself and not so much on the pain. I was happy with the results. I am now making healthy choices and losing weight. We do decorative curbing and I wanted to lose a portland bag of cement, which is 47lbs, before our season started. I have lost 48 lbs., made my first goal and have a lot more energy. Thanks so much to the teamwork in this office! I have lost weight, feel better and regained my health. I will maintain chiropractic care and continue to improve my health. - Nancy F.
---
I was able to Enjoy my Pregnancy!
I was uncomfortably pregnant with my second child. After working with Dr. Mark to alleviate my aches and pains. I was actually able to enjoy my pregnancy! The best result of all: a perfect labor and delivery. Who knew birthing could feel so good. - Andrea B., Age 24
---
My Metabolism Changed!
I have lost 95 pounds! My diet is the same but since coming to W Chiropractic, my metabolism has changed. I look, feel, and act different. You make a difference and by you making this difference, I make a difference. - Ron W., Age 54
---
Car Accident
I sought care at W Chiropractic because I was involved in a car accident in May of 2004. I felt pain a day after the wreck, my neck and pain felt out. My mom suggested contacting W Chiropractic and I started care right away to correct my neck and back. If I didn't get treatment I would probably get worse with my condition as time went on. - Lisa C., Age 24
---
Exceeded my Expectations
My experience at W Chiropractic has exceeded my expectations. The environment is always very positive and the employees are very considerate and helpful. Initially, I decided to get chiropractic care because I was interested in a natural way to maintain and increase my health. Almost immediately after receiving care from Dr. Mark I noticed results. Physically, the adjustments released pressure along my spine and effectively increased my flexibility and range of motion. Emotionally, it has seemingly reduced anxiety and stress. I appreciate everything W Chiropractic has done for me and truly believe it is helping to maximize my everyday life. Thank you. - Steve K., Age 25
---
My Wrists
After my wrists started hurting on a daily basis I asked Dr. Wilson to see if there was anything he could do to help and he suggested adjusting them. After a few weeks of adjustments I was no longer in pain and the popping that had gone on for years is decreasing. - Lucas O., Age 24
---
Now Symptom Free!
Our daughter was healthy until she was 8 moths old. She kept getting fevers and this awful barking cough. This went on for a few months and during this time she had bronchitis, pneumonia, croup and bronchitis again. She soon got diagnosed as asthmatic. We began bringing her to W Chiropractic when she was 2. We knew chiropractic benefits asthma. Within 6 months of care, her specialist declared her asthma free. She is now 4 years old, and with regular bi-monthly adjustments, is symptom-free. - Nathan W. regarding Brenna
---
Allergy Symptoms
I came to W Chiropractic after having allergy symptoms for 7 months. I had found out that my thyroid was not functioning right and was taking medication. After 5 months of adjustments, I was finally able to breathe properly again. My symptoms have almost disappeared, and I have been breathing free for a year now. - Sue L., Massage Therapist
---